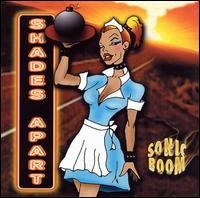 Not unlike the band's music, there probably is not much that I can say about Shades Apart that hasn't already been said before. A group that has been together for years, Shades Apart managed to break out of the local band pack with the release of Eyewitness back in the summer of 99. Their song "Valentine" was a smash on alternative radio and another track; "Stranger By the Day" was featured in the hit comedy, American Pie. Now a few years later the guys who make up Shades Apart, Mark V on guitar and lead vocals, Kevin Lynch on bass and background vocals and Ed Brown on drums are back with Sonic Boom. What the band manages to convey with this release, however, is more of a whimper than a bang.
While I didn't know of Shades Apart prior to Eyewitness, I can't say that I really enjoy their music since Eyewitness either. By this point, Shades has all but copyrighted a certain chord structure as their own. Predictable is the first word that came to mind when listening to their new material. "Conspiracy" is a track that is slightly edgier than the Shades Apart formula. "Gravity" evokes the same emotions of an upbeat television theme song and therefore, just tinkers by.
"Three Wishes" is the resident power ballad, but it's a far cry from the winning "One Starry Night" off of their last album. "Got Shot Down" and "Superzero" are an odd mix of hair band glory and Shades Apart's signature special blend. Finally, there is "Rebel Teenager from Mars," an awkward title to say that is perhaps best left unsaid.
For fans of Shades Apart's previous releases, Eyewitness in particular, my advice is to forego Sonic Boom. In the mass produced material world of today, consider Shades Apart's Sonic Boom just another item on the rack.