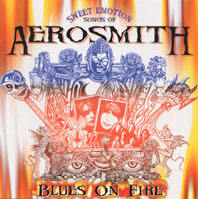 These days, it seems like everyone's doing a tribute album. As you'd probably expect, most of them are a hit or miss affair. This one is no different. Sweet Emotion is the latest in the Blues on Fire series, the purpose of which is to celebrate the influence of the blues on major rock bands--in this case, Aerosmith. Sure, they've recorded a number of blues-based songs over their lengthy career. No argument there. The strange thing about this particular CD is that several of the artists and/or the songs they chose have nothing to do with the blues.
Take "Cryin'," for example. R&B great, Otis Clay does a fairly straightforward take on the song, but it's not even remotely a blues tune. Then there's Gerald McClendan's rendition of "Pink." You can't make me believe that with 21 albums of material to choose from, that this is only thing he could come up with. Of all the songs on the CD, most are performed fairly close to the originals. One of the few exceptions is Pinetop Perkins' delta blues version of "Walk This Way." Joined by Rusty Zinn on vocals and Ronnie Baker Brooks (son of Chicago bluesman Lonnie Brooks) on lead guitar, this is one few tracks on the CD where the artist(s) take a chance, getting into a Muddy Waters/John Lee Hooker-ish vibe.
The best track on Sweet Emotion is Lou Ann Barton's "One Way Street." Time and time again, Barton has proven her blues worthiness over the years, recording and touring with the likes of Stevie Ray Vaughn and The Fabulous Thunderbirds. Her vocals on the hard-hitting track literally ooze the blues. Ex-Foreigner vocalist, Lou Gramm contributes his rendition of "Back in the Saddle" with the help of Chicago harp legend, Sugar Blue. However, if you didn't see his name is the credits, you'd never know it was Gramm. His vocals sound nothing like they did when he was in his former band.
From here, we move to the epitome of pitiful--Kim McFarland's "Dream On." McFarland transforms the song into a hip-hop/r&b/gospel thing. Judging by the amount of oversinging at the end, she's been listening to a bit too much Christina Aguilera lately. The choir just makes things worse. Aerosmith fans may not be pleased with Donald Kinsey's "Sweet Emotion," but by the time they get to Crystal Taliefero's stomach-turning version of "Dude (Looks Like a Lady)," they'll be lunging for the eject button. I've been a big fan of Taliefero's ever since I saw her steal the show at a Billy Joel concert a decade or so ago, but this is just awful. The last song on the CD is 'Honeyboy' Edwards' "Train Kept A-Rollin'." Accompanied by just a lone acoustic guitar, this song sums up what the blues are all about.
To sum things up, Sweet Emotion falls into the 'mixed bag' category. There are a few gems here and there, but that's about it. Unless you're a completist Aerosmith fan (in which case, you may be appalled when you hear some of these tracks) or a fan of the individual artists included here, skip this one.