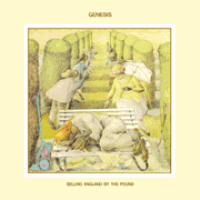 The first three Genesis albums released by Classic Records--Foxtrot, Nursery Cryme, and Genesis Live--found the band really beginning to make their mark on the music scene. By the time they released their fifth album, Selling England by the Pound (arguably the best album of the Peter Gabriel era), Genesis was really coming into their own--showing everyone that along with groups like Yes and ELP, this was a progressive rock band to be reckoned with.
Songs like "I Know What I Like," "Firth of Fifth" and "The Cinema Show" quickly became concert favorites, and remained so long after Gabriel had left the band. Since this is an audiophile pressing, chances are that if you've gotten this far in the review, you want to know how it sounds, right? Break out the headphones and get ready to hear things in nearly every track that you've never heard before. From assorted percussion previously buried in the mix to seemingly new keyboard and vocals parts, there is a wealth of newly found nuances in the album, just waiting to be discovered.
Unfortunately, the review copy we received suffered from a considerable amount of surface noise and pops, especially toward the end of each side--something highly unusual for a vinyl pressing from Classic. Judging by past experience though, this one has to be a fluke. Surface noise aside, this album has never sounded better. The lows are deep and resonant, never muddy. The highs are crisp and clear, without ever becoming shrill. If you're a fan of Genesis or progressive rock in general, this album is a required part of your collection.