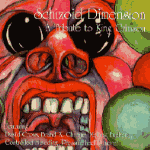 I know what you're thinking. Not another tribute CD. Well, if you're a King Crimson fan, you're gonna like this one. Even if you're not a KC fan, this CD is loaded with tunes that are just too cool to miss. Most of the material is from the earlier years, but there tunes from the later years as well. The bands on Schizoid Dimension do a fine job of paying homage to KC and its various incarnations. Starting off with Controlled Bleeding's dark, ominous take on "Talking Drum," and going through Solid Space's faithful rendition of "In the Wake of Poseidon," Schizoid Dimension runs through twelve songs in just under 73 minutes. Most of the tracks stand up to repeated listenings with ease.
Ex-KC member, David Cross turns in an excellent (although edited) version of "Exiles." The vocals sound like John Wetton (also a KC alumnus) was there to help out. Unfortunately the liner notes don't list the musician credits, so one can only speculate. Fusion veterans, Brand X contribute two songs--"Red" (the first, and best, of two versions appearing on the disc) and "Neil and Jack and Me." The vocals aren't as good as the original on the latter, but "Red" is outstanding. They definitely haven't lost their touch.
Chrome's sounds a lot like early Camel on their version of "Moonchild," and Melting Euphoria's trippy take on "Lark's Tongue in Aspic (Part 1)" is another of the many highlights on the CD. On the other hand, Pressurehed's rendition of "21st Century Schizoid Man" is overblown, and Astralasia's jungle version of "I Talk to the Wind" will send KC fans running for cover. However, on a positive note, those are really the only bad songs included here. Schizoid Dimension gives the listener a unique new perspective on familiar tunes. For those who may not be familiar with these songs, check out the originals first, then come back and check out these new interpretations.
TRACK LIST Talking Drum (Controlled Bleeding) * Exiles (David Cross) * Red (Brand X - West) * Neil and Jack and Me (Brand X - East) * Moonchild (Chrome) * Lark's Tongue in Aspic - Part 1 (Melting Euphoria) * A Sailor's Tale (Alien Planetscapes) * Cirkus (Architectural Metaphor) * 21st Century Schizoid Man (Pressurehed) * I Talk to the Wind (Astralasia) * Cat Food (Xcranium) * Red (Spirits Burning) * In the Wake of Poseidon (Solid Space)