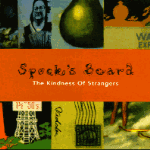 The Kindness of Strangers is the latest release from Los Angeles-based prog band, Spock's Beard. What's that? You still haven't heard of these guys?? Well, their latest disc should take care of all that. They've matured and progressed since their last CD, Beware of Darkness (also highly recommended). While the CD is a bit more commercial sounding than the last one, the more accessible sound should help get the band onto the tightly formatted playlists across the country.
"The Good Don't Last" is the first track on the CD, and while definitely it has its moments, the best songs are still to come. "In the Mouth of Madness" is the first of many highlights--great guitar riffs and excellent drumming. "Cakewalk on Easy Street" rocks hard, and the harmonies on "June" give Crosby Stills & Nash a run for their money. "Strange World" is another standout track, and practically dares you not to get into it. Lead vocalist & keyboard whiz, Neal Morse is outstanding on "Harm's Way." Morse's brother, Alan contributes some tasty guitar work on the track as well. The band relies on its musicianship and songwriting ability to get their point across, and there is no better example of this than on the 16-minute epic, "Flow."
There are only seven songs, but they're all good (three of them go past the 10-minute mark). The Kindness of Strangers is one of those CDs that gets better every time you hear it. If you like bands like Yes, Genesis, or ELP, you'll love this CD.