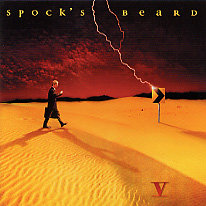 Spock's Beard frontman Neal Morse has been a busy man lately. So far this year, he's released a solo album, collaborated on discs by Ayreon and prog supergroup Transatlantic. On top of all that, there's been a live Spock's Beard album. As if that wasn't enough, the band has just released its fifth studio album, cleverly entitled V. There's nothing here that Beard fans haven't heard before, but the songwriting has improved over the years and they seem to have truly found their musical niche. They move seamlessly between 'pop' songs like "All on a Sunday" with its sweet harmonies to 27-minute epics like this CD's centerpiece, "The Great Nothing." You won't find many groups who can do that.
The album kicks off with "At the End of the Day." The song is 16 minutes of sheer brilliance and one of the best things the band has ever done. It's got great melodies, and the musicianship is outstanding--particularly in the last section. Dave Meros' bass lines are enough to make Geddy Lee stand up and take notice. "Revelation" is another great song with a killer melody. It starts off quiet and unassuming, then rocks out on the choruses. Alan Morse's solos after the bridge are the epitome of power guitar leads. For me, the low point on the CD is "Thoughts (Part II)." Vocally, it's the most complex thing on the disc, but unless you're a Gentle Giant fan, you probably won't truly appreciate it. But you don't have to be a Gentle Giant fan to get into Meros' manic bass solo on the cut.
Inspired by the late Kevin Gilbert, "The Great Nothing" covers an enormous amount of musical ground. From the beautiful acoustic guitar and piano passages to textbook prog-rock chord progressions, and the techno/electronic samples to the classically oriented crescendos scattered throughout, this one's got all the bases covered. One thing you'll notice as you listen to this CD is that there are several instances where you'll swear you've heard parts of these songs before--yet they never sound derivative. The fact that they sound as familiar as they do is a perfect indication of Neal Morse's songwriting skills. And like any great album, you gain a better appreciation of the tracks with each listen as you discover all the nuances --especially on "The Great Nothing."
Spock's Beard has really come into their own with their latest album. Each member of the group gets the chance to shine, but you never get the feeling that any one of them is 'stealing the show.' The band considers this to be the definitive Spock's Beard album. Although I'm not sure that I agree with that (my personal favorite is the group's second album, Beware of Darkness), it's right up there and keeps getting better with every listen.