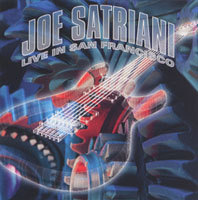 When it comes to modern rock guitar heroes, one of the first that comes to mind is Joe Satriani. Satch just released a new double CD, titled Live in San Francisco. Disc one rocks out for the most part, while the second disc covers more of a melodic, multi-textured mode. As you'd expect, the musicianship from everyone in the band is stellar, from the opening notes of "Time" thru the end of "Rubina" at the close of disc two.
Recorded over two nights in December 2000, Satriani covers material from his entire catalog on the new album. When you hear the blistering renditions of classic cuts like "The Crush of Love" and "Satch's Boogie," it's clear that he doesn't tire of playing the older material either. Instead, he effectively breathes new life into each note. At the end of "Borg Sex," the controlled feedback signals the intro to a beautifully executed version of "Flying In A Blue Dream." The extended "Summer Song" is awe-inspiring. It doesn't seem to matter how many times he plays this song; it just keeps getting better.
Disc two finds Satriani and his band dabbling in more textures than the first disc. Blues, ballads & bass solos--they're all here. Stuart Hamm turns in the first of two bass solos on "Raspberry Jam," and then comes to the forefront (and even throws in a bit of Beethoven's "Moonlight Sonata") on the cleverly titled "Bass Solo." The ballads, "Love Thing" and "Always With Me, Always With You" are absolutely gorgeous. It's amazing to hear Satriani expertly tackle songs like this, and then rock out on tracks like "Big Bad Moon" or "Surfing With the Alien."
Satriani's playing has gotten a bit looser lately, favoring passion and expression over perfection and speed, and the results are much more enjoyable. I'll take passion over perfection any day. At a full two and a half hours, there's plenty of material here to please both new fans and old. Anyone who has ever witnessed a Satriani show will tell you that he's at his best on stage, and Live in San Francisco captures that feeling perfectly. Crank it up!
Editor's note: Live in San Francisco is also available on DVD.