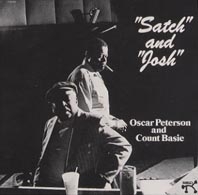 When this album was originally released, it probably seemed like an unlikely pairing. The differences in musical styles between Oscar Peterson and Count Basie were quite a contrast. Maybe that's why it worked so well. One of the most electrifying jazz albums released in the '70s, Satch and Josh was an instant classic. The rhythm section--Ray Brown on bass and Louis Bellson on drums--laid the groundwork for a firm, unwavering foundation on each track. Combining the subtlety of Jo Jones with the bite and fury of Buddy Rich, Bellson hadn't sounded this good in years. Keeping it all together is guitarist Freddie Green, who puts a razor sharp edge on everything.
The 20-bit transfer performed by the folks at JVC for this CD is flawless. Whether it's on bouncy, playful numbers like "Buns," ballads like "RB," or standards like "Jumpin' At the Woodside," this album never sounded better. Warm and rich are the key words that come to mind when you listen to this CD. The soundstage is wide open, with each pianist in his own channel, giving the listener the full sense of the interplay between them. Especially noteworthy is the great rendition of "Lester Leaps In," with Peterson and Basie complementing each other perfectly.
One of the most frequently asked questions that we get here at The Night Owl is "do these audiophile titles really sound any better than the regular albums/CDs?" For this particular title, the answer is a resounding 'yes.' As is the case with just about all of the JVC titles, the improvement in sound quality on Satch and Josh is dramatic. The best thing about the XRCDs? Unlike DADs or the new DVD-Audio discs, you don't need any special equipment to hear the difference. Highly recommended.