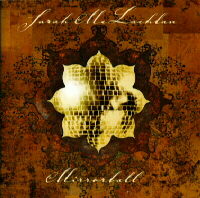 With the success of Lilith Fair the past few years, it was only a matter of time before Sarah McLachlan would release a live album. Mirrorball captured Ms. Lilith and her crack 7-piece band on tour, performing her biggest hits and a few choice album tracks. One of the best things about seeing McLachlan perform is the way she alters the arrangements of the songs. If you want to go to a concert and here the artist play everything just like it is on the CD, Sarah's not the one you want to go see.
After a great "Building the Mystery", she goes into a new scaled back version of "Hold On." I swear; she must have an endless number of arrangements for this song. As the song comes to a close, the band segues perfectly into "Good Enough." From here, she slips into the 'screaming pubescent girl' part of the show, with a string of ballads. For "Possession," she picks things back up again. This version is one of the best tracks on the disc, with a noticeably more electric feel to it, actually rocking out at the end. In a classic case of mood killing, she plays "Ice Cream." I can't for the life of me figure out why she doesn't drop this song from her setlists. But, she redeems herself afterwards with a transcendent version of "Fumbling Towards Ecstasy."
Is the CD worth it just for the few songs I mentioned above? Absolutely. McLachlan's band is outstanding, and she brings a whole different aspect of her music to the stage. If you've seen her perform, you know what I mean. If you haven't, and you own a DVD player, skip the CD and buy the DVD instead. It has 9 additional tracks, plus it's loaded with other 'goodies': multiple camera angles, 2 different audio tracks, an interview, photos and more. Regardless of the format you choose; you won't be disappointed.