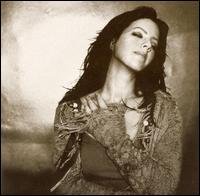 It's nearly impossible to talk about the success of singer/songwriter Sarah McLachlan and her six-year hiatus from the music business without snickering. It's not that the absence of the singer or the even the music itself is worthy of a chuckle, but instead it is the sure-to-haunt-her title, Afterglow, that McLachlan might end up regretting. For a few years, it seemed the Lilith queen was untouchable. But, that was then this is now, and instead of plowing ahead musically, McLachlan seems content to bask in the Afterglow (pun intended) of her former success.
The first single is the familiar, bittersweet sound of "Fallen." In fact, throughout Afterglow, it's clear McLachlan hasn't gotten the memo: 'change is good.' But then again, for every cliché, there's another waiting 'round the corner. It seems McLachlan subscribes to the 'if it ain't broken, don't fix it' school of music, which ain't all that bad, depending on where you're standing, which also might leave McLachlan having the last laugh.
No one is questioning McLachlan's talent or dedication, and it's certainly not as if anyone was asking for a scarily drastic departure (a la Jewel's O304). Then again, a little experimentation never hurt anyone. If anything, Afterglow's arrangements are a bit understated, with the possible exception of the quiet rage present on "Stupid." "Drifting" has subtle Beatles references, while "Train Wreck" carries the powerful line, "I'm a train wreck waiting to happen" with sweet, albeit misplaced sincerity given the sentiment. McLachlan even manages to make a track entitled "Dirty Little Secret" sound pure and well intentioned. The haunting delivery of the romantic "Answer" is surely meant to be Afterglow's answer to "Angel" or even the lesser known Shakespearean tragedy, "I Love You."
Still, despite McLachlan's seemingly resistance to change, the world around her has. Gone are the days when a Felicity or Dawson's Creek soundtrack coo at least were shoo-ins. There might not be another bonafide, hit-one-out-of-the-park type single on Afterglow, but McLachlan manages to wear a sense of sameness rather well.