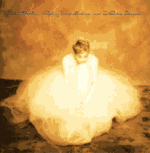 Sarah McLachlan has made quite a name for herself in the last few years. Her Lilith Fair extravaganza was the highest grossing tour of 1997; and her recent album, Surfacing, has done quite well also. In 1994, she released the album that many consider to be her greatest work--Fumbling Toward Ecstasy. Surfacing may have sold more, but Fumbling is a much better album. The regular Arista CD never sounded bad, far from it. But I had no idea how much better the vinyl would sound.
The bass response is much better on all the songs. All of the instruments and voices are more distinct. On "Mary," each vocal track is easily discernable from the next. The bass & drums on the intro to "Circle" are noticeably fuller, and the vocals and guitar solo have more warmth & depth. "Ice" had better dynamic range on the drums, although the CD had slightly more high end. The incredible depth & realism on "Hold On" (the first of three different versions) is literally a recording marvel. The master tape can't possibly sound any better than this.
On "Fear," you can actually hear the sound of the bass vibrating things in the studio. You won't hear that on the CD. The title track had much more depth on the vinyl, and uniformly excellent reproduction across the entire spectrum. Like the CD, Classic added the piano verion of "Possession" as an unlisted bonus track. There was some minor surface noise on the vinyl review copy, but the song had a more open, natural sound to it.
The sparse, stripped down arrangements on The Freedom Sessions give you an inside look at the making of the album; and like the finished product, they sound great. In some cases, these versions are actually better. "Elsewhere" is a perfect example. McLachlan's breathy vocals are much more sensual than what ended up on the finished version. There are two more versions of "Hold On"--a piano version, and an unlisted guitar version. "Ice" is the complete opposite of the acoustic song heard on Fumbling. This one rocks.
Fumbling/Freedom is available on two 180-gram LPs, or one 24-karat gold CD, and features a brand new cover. Don't worry though--the original artwork is still there; plus a booklet containing the lyrics and all the liner notes. This one is sure to please the unsuspecting audiophiles out there, and fans will be beside themselves when they hear it.