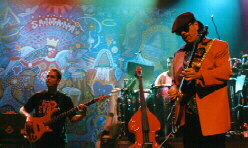 When it comes to concerts, there's one thing that's a sure bet--if Santana is in town, you're guaranteed a good time. This show was no exception. Most of the performances on this short tour were in small, intimate venues, adding to the concert experience. Their latest album, Supernatural has been in the top 10 for months, and it was the source of a good deal of the setlist.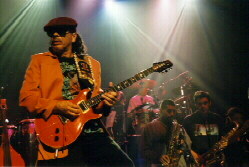 After opening with "Yaleo," they kicked into a powerful version of "Migra," one of the best tracks from their new album. Both songs featured the horn section of opening act, Ozomatli. As "Migra" came to an end, the horn section left the stage and Carlos moved over to the acoustic for the intro to "Day of Celebration." The song is a hidden bonus track on Supernatural, and it included a brief tease of The Rolling Stones' "Paint it, Black."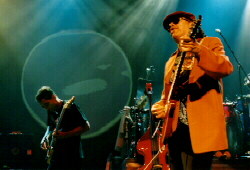 Next up was a beautiful instrumental called "Victory is Won," which featured a great B3 solo by keyboardist Chester "C.T." Thompson. One of the best things about a Santana concert is Carlos' innate ability to reach deep inside and touch your inner feelings, and this song was a prime example. "Maria, Maria" found Santana bridging the gap between Latin rock and hip-hop. Musically, the song wasn't bad. But the rap vocals killed the mood. Fortunately, Carlos came in at the end and saved it with a killer solo.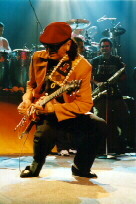 Miles Davis has long been a source of inspiration to Santana. Since as he was in St. Louis (Miles' home town), he acknowledged Davis with a brief portion of "In a Silent Way" before going into "Open Invitation." Tony Lindsay's vocals on this one seemed buried a bit, and frankly, it seemed like he was trying to rush through things (this was the lone tune from this era of the band). Still, that didn't keep Carlos from shining at the end of the song. Lindsay and Ricky Martin lookalike, Andy Vargas shared the vocal chores on "Put Your Lights On" and the band's smash single, "Smooth."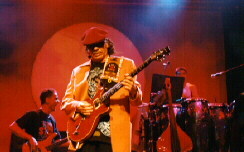 "Bacalao Con Pan" featured a brief excerpt of the Duke Ellington's "Caravan," and gave the entire band a chance to stretch out. A Santana concert wouldn't be complete without the obligatory drum/percussion solo. This one was a bit too long, considering there would be another one later in the show, but you cant deny the immense talent of this rhythm section. Karl Perazzo and Raul Rekow have been playing percussion with Santana for ages, and drummer Rodney Holmes was no slouch either. Still, the best from all three was yet to come.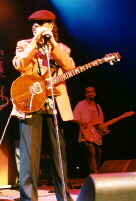 During the intro to "Make Somebody Happy," Carlos told the sold out St. Louis crowd how he had traveled to Kingston, Jamaica and saw a statue of Bob Marley. Austin, Texas has a statue of Stevie Ray Vaughan. Lubbock, Texas has a statue of Buddy Holly. But (and he said to correct him if he's wrong) we don't have statues here of Miles Davis, Chuck Berry, or Clark Terry. We may not have statues, but along the Walk of Fame here in town, there are stars celebrating the music of all three. That's OK, Carlos. We'll let you slide on this one.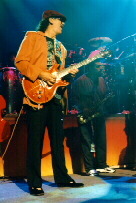 After a heartfelt rendition of "Make Somebody Happy," the band went back to the Abraxas album for extended versions of "Black Magic Woman / Gypsy Queen" and "Oye Como Va. During "Gypsy Queen," Carlos incorporated bits of The Beatles ("Here Comes the Sun") and Jimi Hendrix ("Third Stone From the Sun") into his solos. During "Oye Como Va," it almost seemed like he was trying to see how many different songs he could touch on, as he tossed in parts of Carole King's "I Feel the Earth Move, Yes' "Owner of a Lonely Heart," and Cream's "Sunshine of Your Love."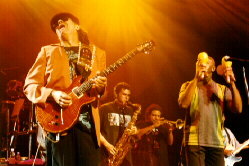 After a short break, the band returned for the encore with members of Ozomatli, and kicked into a fiery version of "Everybody's Everything." As the song ended, the extra musicians left the stage, and Santana eased the band into a medley of "Europa" and Marvin Gaye's classic " I Want You." The show ended with "Jingo," from the band's debut album. Santana introduced each member of the band, and then left the stage, leaving the rest of the band to finish up the song.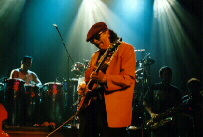 Carlos was clearly pumped for this show. Throughout the night, his playing was brilliant and full of emotion. Santana is only playing 6 more dates before the end of the year--3 in Mexico, and 3 in Las Vegas to ring in the millennium. Don't miss the opportunity to see them on this tour. The band's in rare form.