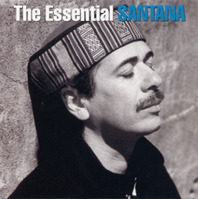 The folks at Sony have been releasing a boatload of these "Essential" compilations, and for the most part, they're all quite good. The latest one is The Essential Santana." In this instance, they took four decades of music, and condensed it to just over 150 minutes of music. Most, but not all, of the hits are here, along with a few album tracks to satisfy the diehards.
My biggest complaint with this collection is that they don't always use the full length versions of the songs. The good thing is that they touch on most of the legendary guitarist's catalog. Naturally, any longtime fan will find faults with this type of release. For example, there's only one track from the criminally underrated Zebop album ("Winning") and they used the studio version of "Europa" instead of the live version on Moonflower.
On a positive note, there's nothing from Supernatural. It's great that Santana finally achieved the success that he deserved after all these years. But it's too bad that it had to come with the help of people like Rob Thomas and Dave Matthews. The Essential Santana is sure to be a hit around the upcoming holiday season for those who are discovering Carlos' back catalog, but longtime fans looking for a Santana compilation will be better off with The Best of Santana, or the recently remastered reissues.