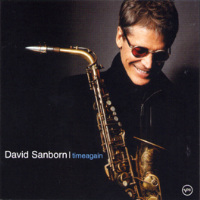 I've been a 'here again, there again' fan of David Sanborn for about as long as I can remember. Lately, I've been disenchanted with his work. Too much funk, too much fluff, not enough substance. Anyone who feels the same, take note--your opinion is going to change the first time you hear this CD. Timeagain (his first release on the Verve label) is easily the best thing he's recorded since his 80's heyday.
From the moment you hit the play button, you're in for a wonderful musical experience. Sanborn's core band--Christian McBride on bass, Steve Gadd on drums, Russell Malone on guitar, Ricky Peterson on keyboards, and longtime Sanborn alumni Don Alias on percussion--sounds like they've been playing together for years. Seven of the ten tracks on the disc are covers, but Sanborn takes each song and makes it truly his own.
The disc gets off to a great start with a slinky cover of Ben Tucker's "Comin' Home Baby," featuring an outstanding bass solo from McBride. "Cristo Redemptor" is absolutely gorgeous, and the cover of "Harlem Nocturne" has an almost tropical feel to it, thanks to Alias' percussion. "Man from Mars" sounds like a track that should've been on Sanborn's Double Vision album. All it needs is Bob James on keyboards. The laid back groove would've been the perfect addition to the classic album.
One of the things that impressed me the most about Sanborn's playing on the disc is his seemingly new found restraint. No longer does he wail just for the sake of wailing, or try to squeeze as many notes as possible out of a single breath. Each flourish has just the right amount of notes, and the right amount of space. "Sugar" is a perfect example, especially in the midsection. Russell Malone serves up a tasty guitar solo on the song as well.
Sanborn's at his catchiest on "Tequila," beautifully augmented by vibraphonist Mike Maineiri. His presence on all of the songs here (he's on all but one track) makes them truly memorable. Things slow down a bit on the first of the three original songs, the almost Satie-esque "Little Flower." "Spider B." is yet another memorable track, featuring noted session man Lawrence Feldman on alto & bass flute.
Timeagain doesn't disappoint at all. This is the album that fans have been waiting for, and perfect for kicking back with friends or that special someone on a hot summer night. Highly recommended.