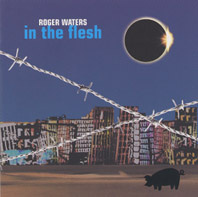 In 1999, Roger Waters embarked on his first tour in over a decade. The shows were enormously successful, and the ever-pessimistic ex-Pink Floyd bassist/vocalist actually seemed to be enjoying himself--occasionally even smiling towards the audience! In 2000, Waters went back out for the second leg of the tour, this time with a few minor changes (for the better) in the setlist.
The '99 set opened with the entire first side of The Wall. In 2000, he dropped "The Thin Ice" and "Another Brick in the Wall Part One" in favor of "Set the Controls for the Heart of the Sun." No complaints there. In '99, the second set contained "The Powers That Be" (the only cut from the Radio K.A.O.S. album) and "What God Wants." In 2000, those songs were replaced by "The Bravery of Being Out of Range" and the new one, "Each Small Candle." Again, no complaints.
But what about the Waters vs. Floyd comparisons? Which one really is Pink? The answer to that question largely depends of who you ask and which song you're referring to. Both Waters and what's left of Pink Floyd are capable of doing a spectacular job on stage. The discrepancies come into play mainly when you don't have Waters or David Gilmour singing where they're supposed to be. For example, Gilmour should sing "Wish You Were Here" and most of the cuts from Dark Side of the Moon. Waters needs to sing the quiet parts on "Comfortably Numb."
Rather than going into each track and comparing them against the studio versions, etc, I'll just tell you about some of the highlights--and there are quite a few here. First of all, there's "Dogs." Sure, this is mainly a Gilmour song (musically speaking), but Doyle Bramhall II and Floyd concert-alumni Snowy White do a superb job with the solos. The backup singers, Katie Kissoon, Susannah Melvoin, and P.P. Arnold sound great and are mixed perfectly, making the song that much more enjoyable. "Set the Controls for the Heart of the Sun" gives the band plenty of time to stretch out, and they make the most of every note.
My biggest complaint about the '99 tour was that there was too many songs from Waters' last solo album, Amused to Death. The second leg still featured these songs, but this time included an excellent rendition of the album's best track, "The Bravery of Being Out of Range." The new song, "Each Small Candle" is being considered for Waters' next solo effort, Ca Ira. And if this song is any indication, it should be one hell of an album.
In the Flesh is an excellent representation of Waters' 1999-2000 tour. The sound quality is stunning, and the booklet is loaded with photos from the tour, plus an insightful essay by Waters himself. The only bad thing about this album is that it makes you appreciate just how great it could be if Roger and the rest of Pink Floyd would just kiss and make up…