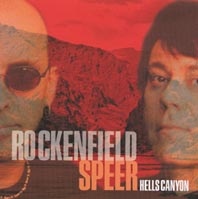 This is one of those albums that grabs your attention the first time you hear it. Just put it in your CD player & hit play. I can almost guarantee you that anyone within earshot will come up and ask what you're listening to. Rockenfield/Speer is made up of Queensryche drummer, Scott Rockenfield and multi-instrumentalist Paul Speer. Start to finish, the 11 tracks on this CD take you on a thrilling musical journey inspired by the deepest gorge in North America--Hells Canyon.
After the stormy intro of "Descent," things get off to a great start with "Seven Devils" and "Chant of the Fathers" as Speer's fluid leads evoke feelings of being in the depths of the canyon and the things that you'd encounter. One of the best tracks is "Snake Dance." The slippery bass line conjures up images of winding your way through a ravine as the track comes slithering out of your speakers. "Coyote" is a dark (but very cool) tune featuring another awesome bass line by Speer. "River of No Return" is a showcase for Rockenfield's powerful drumming. The main thing that makes this CD so interesting is the variation of moods from track to track. The music is soothing, yet exhilarating at the same time.
This album is one of the coolest things you'll never hear on the radio. The sound quality is outstanding (audiophiles will love it). Dim the lights, crank up the volume, and get ready for a trip into Hells Canyon.