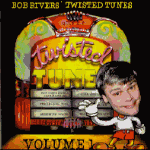 Are you having a bad day? Could you use a good laugh? Well, look no further than these two CDs. Bob Rivers is one of the true masters of musical parody. If you thought Weird Al was funny, you're gonna love Bob Rivers. If you didn't think Weird Al was funny, you're still gonna love Bob Rivers. His first few releases were hilarious parodies of Christmas songs. These two discs cover 30 of the biggest pop, rock, and R&B hits from the 60's through the present.
Rivers parodies everyone--Soundgarden, Janis Joplin, Kiss, Joan Osborne, Emerson Lake & Palmer, Hootie & the Blowfish, The Who, The Beatles, Tom Petty, Percy Sledge, Lou Reed... No one is safe. Not even Petula Clark. The liner notes say, "all celebrity vocals and instrumental performances on this album are impersonated." The thing that's so great about these discs is that (the majority of the time) you don't know you're listening to a parody until you hear the lyrics. Seriously, the music is done that well.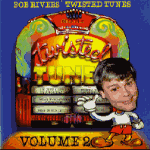 A perfect example is "What an Ugly Man He Was," sung to the tune of ELP's "Lucky Man." The guitar intro sounds exactly the same. Some of the many highlights here include (and no, I'm not going to spoil the fun and tell you who all of the artists are), "I'm Just a Singer in a Holiday Inn," What if God Smoked Cannabis?" "You Don't Smell Like Flowers," "Middle Aged Waistline," "Three Inch Tool" and "The Old Man (Is on the Commode)." The only bad thing about these CDs is that they're too short.
Several of the artists parodied have told Rivers that they enjoyed the tunes. For Rivers (and the assorted musicians and vocalists who play on the tracks), that has to be the ultimate compliment. They do a great job on all but one or two of the songs, and deserve equal credit (by rachael). Rather than go into anymore details on the individual songs, I'll just list them below. You'll be able to figure out most of them from the titles. If you're a fan of any of the bands I mentioned above, you need these CDs.
TRACK LIST:
VOLUME ONE - You Don't Smell Like Flowers * Take a Whack on the U.S. Side * Three Inch Tool * Downtown in the 90's * What an Ugly Man He Was * Minimum Wage * Free as a Turd * The Old Man (is on the Commode) * Spinning Reel * PLO's and Israeli's * Middle Aged Waistline * Strawberry Rehabs Forever * Baby Madonna * Asshole Son * Magic Comet Ride
VOLUME TWO - Hello, I Love You (Let's Get Tested) * I'm Just a Singer in a Holiday Inn * What if God Smoked Cannabis? * Beat Up Old Jetliner * Mr. Magoo * When a Man Loves a Chicken * I Used to Rock and Roll All Night * Getting Fatter All the Time * I'm a Weight Watcher * Officer Fuhrman * OJ's Trial Thing * How It Feels (To Be Old) * Bowel Moves * Wrong Foot Amputated