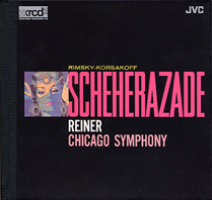 At some point, anyone who reads audiophile reviews is sure to come across the term 'reference recording.' But what exactly makes something a reference recording? To these ears, it's a combination of an extraordinary performance and outstanding sound quality. This one has it all. Recorded over 42 years ago, the disc easily holds its own with today's digital recordings.
Scheherazade requires a first rate virtuoso orchestra, and the Chicago Symphony Orchestra lives up to the challenge, surpassing all expectations. The performance is supple and sensuous, and the dynamics are stunning. Concertmaster Sidney Harth's solos dazzle, yet never sound overdone.
As with other recordings from this period, the acoustics of Chicago's Orchestra Hall were used to full advantage. The wide, but relatively shallow stage translates well to the CD format, especially with JVC's XRCD2 mastering process.
Without question, this is the Scheherazade to own. The combination of Fritz Reiner with the CSO is rarely matched, and the maestro captures every colorful nuance of Rimsky-Korsakov's masterpiece beautifully. For Reiner/CSO fans this is an absolute "must have."