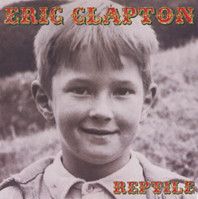 Anytime, Eric Clapton releases a new album, it's an event. His last effort, the collaboration with B.B. King, Riding with the King was one of the best of his career. However, I had some major reservations about this one. Clapton's last 'solo' album, Pilgrim, was a disappointment. Prior to actually hearing Reptile, everything I'd read about it said the CD was just so-so. Maybe because of that, I was pleasantly surprised. Reptile has a decidedly different sound to it, mostly due to the backing vocals by The Impressions. They add a soulful touch that, until now, has never been heard on a Clapton album. Also, the drum machines that were so prevalent on Pilgrim are nowhere to be found. This time out, it's all real instruments.
EC goes after a number of musical styles on Reptile, and for the most part, they all work well. Although half of the songs on the CD are covers, Clapton turns in one inspired performance after another--on both vocals and guitar. The title track is a laid-back instrumental with a tropical, smooth jazz feel. The first highlights are all covers--"Got You On My Mind," J.J. Cale's "Travelin' Light" and a smoldering version of the Ray Charles classic, "Come Back Baby." "Travelin' Light" features some excellent slide work from EC, while the other two have more of an 'old-time' blues sound to them.
"Broken Down" finds EC in a soulful mood, serving up some inspired vocals (with help from The Impressions) and a tasty acoustic guitar solo. Bassist Nathan East steps into the spotlight for a solo (a rare occurrence on an Eric Clapton record) on Stevie Wonder's "I Ain't Gonna Stand For It," the first single from the CD. The most interesting cover on Reptile is James Taylor's "Don't Let Me Be Lonely Tonight." Clapton takes the JT ballad and turns it into a soulful, slow blues number. B.B. King's influence comes through loud and clear on the track, with EC's stabbing guitar licks.
The CD ends with another instrumental, the introspective "Son & Sylvia." Reptile may not be the best thing that Clapton's ever released, but it's definitely no slouch. Take the best parts of Unplugged, add in a bit of From the Cradle, and mix well. The result is Reptile. Fans still aren't getting the rock album that they've been clamoring for (the closest EC comes to rocking out is on "Superman Inside"), but they won't be disappointed with this release.