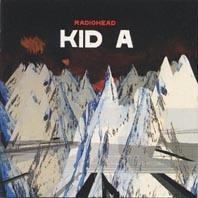 Over the last year or so, the Billboard charts have been dominated by mainly pop and hip-hop (not counting Santana, of course). The fact that a CD like Radiohead's latest effort can debut at the top of the charts is quite a surprise. There are no singles or videos planned from the album, and I can't imagine any of the songs being played on commercial radio stations. If that's the type of station you normally listen to, then Kid A will probably sound unlike anything you've ever heard before.
The first thing that Radiohead fans will notice is the apparent lack of guitars. There's nothing that comes close to songs like "Creep" or "My Iron Lung" on Kid A. Ethereal is the permeating theme here. Starting with the contemplative "Everything In Its Right Place," the song centers on a sparse arrangement of just keyboards & ghostly vocals. It's this track that sets the mood for the rest of the disc. "The National Anthem" starts off with a pounding bass line, and then about halfway into the song, things slowly begin to dissolve into a cacophonous orgy of free blowing horns. Not exactly your basic top 40 fare.
"Treefingers" is an eerie instrumental, similar to something you'd hear on one of the early Alan Parsons albums, or maybe a Brian Eno record. The CD's best (and most commercial) track is "Optimistic." It's also one of the few times you hear any real guitar licks. Looking a good headphone tune? Check out "In Limbo." With all its spacey textures and nuances, you'll hear something new each time you listen.
Kid A is the perfect example of one of those albums that you need to hear several times (and at a reasonable volume, I might add) to really appreciate. The good thing is that the songs have something about them that draws you back for more. You may not like them the first time you hear them, but you'll want to hear them again. The grandiose, thematic scope heard on 1997's OK Computer is nowhere to be found on this album. What you get instead is a glimpse of what the future of music may hold. There's one thing you can't deny about this record--it's different. And in this case, with the abundance of rap/metal and pop artists that have been on the charts recently, different is good.
(Editor's note: This CD is also available in a limited edition package with an exclusive booklet, as well as on vinyl)