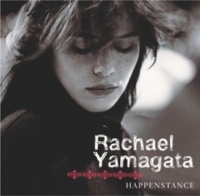 Perhaps it really was part happenstance that brought Rachael Yamagata to where she is today, but my bet is it actually has a lot more to do with talent. With a sound reminiscent of Fiona Apple minus the drama, or Norah Jones with more angst, Yamagata manages to achieve the impossible by carving out a niche all her own.
This twenty-six year old's debut literally overflows with a signature blend of smoky vocals and heart on her sleeve lyrics. On songs like "Be Be Your Love," "Even So" and "Quiet," Yamagata successfully marries a late night jazz club with an underlying pop presence. The fast-paced, interrogation style heard on "Letter Read" grabs you from the get go. "Worn Me Down" has mainstream success written all over it, while "Paper Doll" teeters towards folk.
"I Want You" takes things in a different direction once again by introducing a dance hall feel that would fit in perfectly in an old-fashioned musical. The little nuances that Yamagata possesses and exudes are what sets her apart from the pack. A Lilith Fair lady that arrived on the scene ten years too late, she still has a good chance of standing, and sticking it out.
The challenge with singer/songwriter's like Yamagata, lies in the burden of comparing her to others without taking anything away from her own, unique approach to songwriting. Sure, she has a sound that was might have been 'marked' by those that have come before her, but does that mean she still can't do it better?
Yamagata's poetry is rooted in the belief that everything happens for a reason. It wasn't chance that brought Yamagata here, but Happenstance is definitely a collection worthy of taking a chance on.