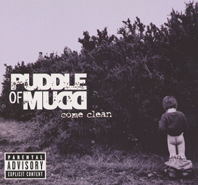 For those who have had enough of Limp Bizkit's Fred Durst, his wannabes and his spin offs, they might be less than enthusiastic to find that Puddle of Mudd is the latest in the long line of the Durst lineage. However, for those who listen to Puddle of Mudd despite the Durst connection, they might be pleasantly surprised by what they hear.
As the first act signed to Durst's new label, Flawless Records, Puddle of Mudd is unleashing itself on the rock world in a time where rage rock is raging. So, the big question remains... Will Puddle of Mudd be able to capitalize on anger management rock's success, or will they fall by the wayside from the inevitable hard rock backlash?
The first single from the CD is the inviting, "Control," and unlike most freshman and sophomore offerings these days, there is surprisingly more where that came from. "Drift and Die" could be Three Doors Down's older brother, Staind without the angst, or even Durst without the whine. Meanwhile, "Blurry" serves up a slight swerve in the road with a Linkin Park rival on their hands.
"She Hates Me" has a bit of a pop underbelly and proves the pop/rock marriage to be a successful one. This track might have been an unplugged hit for the late Kurt Cobain to head up along the lines of Nirvana's hit track, "Lithium." "Piss It All Away" continues down the acoustic tinged path recalling the sounds of classic Stone Temple Pilots. Finally, there is the appropriately titled "Basement," which is the heaviest track--not to be confused however, with the deepest.
There is a hard to pinpoint, "heard this before" feeling prevalent throughout Come Clean. Perhaps this is partially due to Puddle of Mudd's numerous rock predecessors. And while these guys are the latest Durst disciples both in sound and in theory, they are also amongst those that are far more talented than the man himself. All in all, Puddle of Mudd's outlook is far from murky.