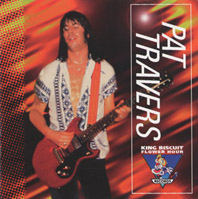 In terms of radio popularity, Pat Travers was past his prime by the time this show was recorded. As such, this CD ends up being somewhat of a mixed bag. Still Travers and his band worked their way through a decent selection of tunes from his entire career up to that point. After opening with "Tonight," Pat and his band serve up inspired performances of "Killer" and "Life in London." As far as musicianship, the band is more than sufficient, however they're not as tight as Travers' late-70's group. "Gettin' Betta' is a perfect example. Instead of getting into the groove of the original, this rendition is clearly rushed--almost as if they're playing it because they think they 'have to.'
The next standout track is Travers' classic ballad, "Stevie." This song has been in the setlist almost since the beginning, and for good reason. To date, it remains one of his best tunes. The vocals are a bit weak here, but musically it's one of the highlights of the CD and Travers turns in an excellent solo. On "Born Under a Bad Sign," Pat and the boys fail to recapture the power of the studio version, instead settling for the lackluster pseudo-reggae-blues performance that ended up on the disc. It wouldn't be a Pat Travers show without his cover of "Boom Boom (Out Go the Lights)," and this one's no exception. The disc comes to a smoldering close with "Snortin' Whisky." This track and "Life in London" are clearly the best cuts on the CD.
It's great that the folks at King Biscuit are releasing shows from their archives like this; however in terms of material, they may not necessarily appeal to the artist's biggest fan-base. This CD is a perfect example. The performance isn't bad, although the setlist could be better. If you're looking for the best live Pat Travers album, pick up a copy of Go For What You Know (with the 'classic' lineup of Pat Thrall on guitar, Mars Cowling on bass & Tommy Aldridge on drums). If you've already got a copy and you're looking for more live Pat, this one's not bad.