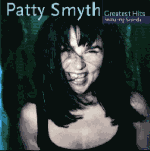 Back in the early 80's, there was hardly a time where you couldn't turn on MTV and see the video for "Goodbye to You." Their follow-up video, "Love's Got a Line on You" featured a then-unknown Jon Bon Jovi pretending to be the band's guitarist. Hmmm, isn't he still pretending to be a guitarist? Anyway, Scandals 5-track EP went on to become Columbia's best-selling EP. Tensions soon mounted within the band, and shortly after they released their first full-length album, The Warrior, Scandal was no more.
According to the liner notes, it was about this time that Smyth (through a new friendship with Valerie Bertinelli & husband, Eddie Van Halen) was asked to be the new lead singer in Van Halen. She turned down the offer. With Scandal no longer in existence, Smyth soon released her first solo album, Never Enough. Although the album never really took off, it had what some consider the best version of Tom Waits' "Downtown Train" (newly remixed for this collection).
Smyth soon left Columbia, and signed with MCA. In 1992, she released her second solo album, which contained her biggest hit to date, "Sometimes Love Just Ain't Enough." This CD marks the first time that the hits with Scandal and the ones from her solo career have appeared in one place. In addition, there are two new tunes and a previously unreleased track from 1985. Patty Smyth still has one of the best voices in rock, and the fact that the older songs still sound good is proof of her talent.
TRACK LIST:
The Warrior * Sometimes Love Just Ain't Enough * Wish I Were You * Carnival Lights * Love's Got a Line on You * Goodbye to You * I Should be Laughing * Downtown Train * The River Cried * Everyone Gets Older * Say What You Will * Beat of a Heart * Heartache Heard Round the World * Isn't It Enough * No Mistakes * Hands Tied