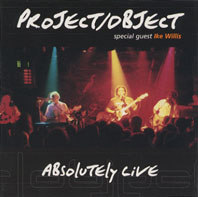 Being the huge Frank Zappa fan that I am, I was a bit skeptical of Project/Object. I didn't think much of the Zappa's Universe album, and I figured this was going to be just another attempt at duplicating the whole experience. Well, I was wrong. FZ's vocals weren't there (obviously); but musically, Absolutely Live is the next best thing to an actual Zappa concert. And having Ike Willis there on guitar and vocals adds a sense of legitimacy to the whole thing. Willis was in Zappa's band for 13 years--longer than anyone other than Frank himself. All of the things you'd expect at a Zappa concert are here, the sound bytes, the screams, the lyric mutations (as FZ used to call them), and of course, the expert musicianship. They're all here.
Recorded live at Wetlands Preserve in New York City, Project/Object features Rick Bartow on bass and vocals, the amazing Andre Cholmondeley on guitar and vocals, Robbie 'Seahag' Mangano on guitar and vocals, Mumbo on drums, percussion, synth, and lead vocals, Wesley Paich on drums, percussion, synth, vocals, and conducting, Jordan Shapiro on Fender Rhodes, synth and vocals, and Ike Willis on guitar and lead vocals.
The CD starts with a slowed down version of "More Trouble Every Day"--complete with several familiar subjects showing up in the lyric mutations (Republicans, Bush, etc). Frank would've had a field day with Duh-bya in office. He's such an easy target. It was good to hear some of the 'classic' mutations, along with a few more timely ones. "Easy Meat" sounded fantastic, especially the middle section. The band was clearly having a blast performing this one. Seahag's solo was a bit short, but he replicated FZ's guitar tone perfectly.
Willis takes over the lead guitar spot for "Filthy Habits" and Bartow's bass lines on the song are outstanding. Ike reprises his role as the Thing-Fish narrator on "The Evil Prince," and Seahag turns in a great multi-textured solo. Up next are two personal favorites from the Sheik Yerbouti album, "I Have Been in You" and "Flakes." The lead vocals could be better--but then again, these were songs that Frank sang. Mumbo's percussion on Flakes is exceptional.
"Inca Roads" is probably the most complex song on the CD. Andre's guitar work throughout the CD is superb, but his solo on this one would've made FZ proud. The ensemble playing was nothing short of brilliant, and featured a cool solo by Jordan on 'inca rhodes.' "Cosmik Debris" includes some familiar lyric mutations, and sound bytes from South Park (in this case, Cartman's "screw you, hippie"). Before they go into "King Kong," you hear someone in the band say "anything can happen in this song, folks," almost as if to warn the newbies in the crowd. However compared to the versions that would be played later in the tour (with the "Speed Round Melody Game"), this one was tame by comparison. Still, it ranked high on the coolness scale, especially the trippy middle section.
FZ always had the best musicians in his bands; and if he was still around and touring, these guys would fit right in. Project/Object is much more than just a tribute band. They accurately recreate the live Zappa experience in a way that no one else has been able to achieve. Absolutely Live is a great CD that should be a part of any Zappa collection.
Editor's note: If you can't find this CD in your local CD shop, try online at www.projectobject.com.