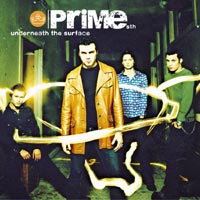 While it may be tempting to write off Prime sth as just another alternative rock band, there is a slight twist on the formula. This particular alternative act hails from Stockholm, Sweden (thus the 'sth'), a country ruled by the dance pop, not hard rock. In fact, all members of Prime sth--Noa Moden vocals/guitars, Martin Palsson guitar/backing vocals, JSPR bass, and Kaz drums, learned English as their second language. That's pretty impressive, yet what it takes for Prime sth who has their sights set on taking America by storm.
Together since their early teens, the members of Prime sth, now all in their early 20s, never felt in sync with Sweden's musical majority. Ironically in America they blend right into the crowd. Their first single, "I'm Stupid (Don't Worry 'Bout Me)" is not only a decent tune, but it tells a worthwhile story of a relationship gone sour from a new perspective as Moden sings, "If I can't make you love me, your out of reasons to stay, make it easy on yourself, don't worry about me."
What's most notable about Prime sth's aptly titled Underneath the Surface is that there's not a bad apple in the bunch. Do some of the songs sound alike? Yes. Does Prime sth seem to be riding the coattails of the alternative wave? Sure. Does this make Prime sth a bad band? Not at all.
Although the album falls in line with a certain sound, there are unique experiences behind many of the tracks that bring the songs to life. "My Evil Friend" for example is a song that represents a part of us we all have that seems to always mess things up. Co-written by Moden, a self-described quintessential Gemini, this song paints a portrait of him as a person. "Believe" is another personal moment on the album. All about not giving up, "Believe" is an older tune that managed to make the cut and perhaps even inspire the band when at times they thought they might not make it. The collection even includes the obligatory love song, "She," as well as many other possible hits like "Underneath the Surface," "I Don't Envy You," and "Even the Score (No One Else)."
Prime sth the band however, is in a sticky situation. While their music may not fly in Sweden, they also may have to take a number and wait on America's rock line. Still, an album you can easily listen to all the way through these days and enjoy is a rare treat- no matter what the genre.