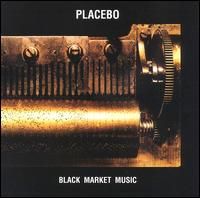 Placebo's latest album, Black Market Music is akin to early David Bowie, Lou Reed and Iggy Pop with its brash and articulate lyrics. Where the band's first two records were filled with tortured self-inflicted violence, Black Market Music shows the androgynous singer taking on the world's sickness, rather than his own.
"Taste in Men" fuses Sonic Youth-style noise with electronic beats, while "Days Before You Came" shows off the trio's punk side. The most noticeable differences on the new CD are the cautionary stories about the dangers of drug addiction. On "Commercial for Levi," lead singer Brian Molko speaks to a friend, or himself, "If you don't change your situation, then you'll die... don't die." On "Narcoleptic," he laments, "You better keep it in check, or you'll end up a wreck. And you'll never wake up." Surprising lyrics from a man who once admitted to shooting crack.
The lyrics have grown from the past and the band has matured musically as well. Songs like "Passive Aggressive" and "Peeping Tom" show real songwriting depth; mixing guitar screams with delicate melodies and quiet piano ballads. But if you're a fan of Placebo, don't panic. They still rock. Black Market Music is a stellar effort by one of the most underrated bands to hit the American shores.