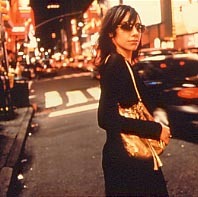 It seems like there's been a flood of great albums in the stores lately. One of the best is the latest from PJ Harvey--Stories from the City, Stories from the Sea. From the urgency of songs like "Big Exit" or "Kamikaze" to the beautifully sparse intensity of "We Float" or "This Mess We're In" (her haunting duet with Radiohead's Thom Yorke), Harvey shines throughout--both as a songwriter and as a performer. The songs were written over the last year in New York and her hometown of Dorset, England.
The New York influence is readily apparent in the songs, with several references to the city's landmarks. Polly's vocals seem to have taken on an uncanny similarity to New York favorite Patti Smith as well. Check out the way she pronounces 'building' (bee-il-ding) on the CD's first single, "Good Fortune." Then there are other times where she sounds like Chrissie Hynde, which isn't bad either. Best of all, it's great to hear Polly rocking out again. Several of the songs here would sound right at home on previous albums like Dry, or Rid of Me--especially "This is Love" and "The Whores Hustle and The Hustlers Whore."
It's almost impossible to pick the highlights on this disc. There's not a bad track to be found. The vocal arrangement on "A Place Called Home" is worth the price of the CD by itself. "You Said Something" has 'smash' written all over it. If this song doesn't become a hit, something's terribly wrong. Harvey masterfully strikes a balance between her blues-folk roots, avant-garde tendencies, and pop sensibility on her latest effort. Stories from the City, Stories From the Sea is the perfect representation of one of Britain's most electrifying artists at the height of her abilities.