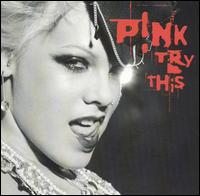 For all the hoopla surrounding what Britney is wearing or who J-Lo is dating, not nearly enough attention is being paid to artists whose hearts (and voices) are in the right places. Pink's image has always been borderline punk, but if you look past the hair and the snarl you'll see a true artist, dedicated to exploring the creation of good music regardless of pop culture's predefined boundaries.
With her 2000 debut, Can't Take Me Home, people thought they had Pink pegged as the next R&B one hit wonder, full of attitude and voice to rival her African-American counterparts such as Lil' Kim, Ashanti and Mya, but little else. Naysayers were forced to eat their words in 2001 when Pink released the aptly titled Missundaztood. Call it an artist continuing to find oneself creatively, or maybe it's a case of merely finding good collaborators. Whatever the reason, suddenly Pink hit a new stride as a seemingly reinvented artist; distancing herself not only from her former contemporaries, but from her own previously established musical identity. The result was a mainstream pop success.
Fast forward two years and Pink has released another tongue in cheek collection simply titled, Try This. Once again, Pink manages to take what has worked for her in the past and build upon it beautifully. Back is co-collaborator; former 4 Non Blondes lead vocalist and brainchild, Linda Perry. Also along for the ride this time is Rancid's Tim Armstrong. Both influences are strong in nearly every arrangement. In fact, there are many sounds sampled on Try This, and therefore, the message is evident. Pink knows we know she can play it smooth and can obviously reign in the arena of pop. Now she wants us to know she can also rock.
The first single, the 80'sified "Trouble," plays it safe, but still works on many levels. Meanwhile, on "God Is a DJ," Pink gets philosophical with the catchy sound bite, "God is a DJ, life is a dance floor." The irresistible tracks "Save My Life" and "Walk Away" take a cue from subtle sixties influences, while "Try Too Hard" seems to be inspired by the likes of Pat Benatar, Joan Jett or even lesser known raspy vocalists such as EG Daily or Rachel Sweet. Then there's the anthemic chant of "Humble Neighborhoods" which conjures up images of Jim "Meatloaf's Main Man" Steinman operatic masterpieces.
Although Pink's vocals are always somewhat smoky, her sultry side truly surfaces on the provocative "Oh My God" and the Prince inspired smooth jam, "Catch Me While I'm Sleeping." The final feather in Pink's cap goes to the perfect closing song, the understated, bittersweet ballad, "Love Song," where Pink shows a more vulnerable side. It is this vulnerability that Pink turns so wonderfully into confidence, which separates her from the pack. She does pop without being cheesy, R&B without being cheap, and rock without being badass. Instead, she does all three with individuality, style and most importantly, a whole lot of talent.
Editor's note: This CD is also available in a limited edition package with bonus DVD.