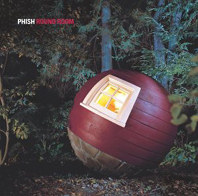 I'd like to start this review by saying that I've been a Phish fan for several years now. I've seen the band live & I'm well aware that the studio albums are never as good as seeing the band perform onstage. Having said that, I'd say that Round Room is the worst album the boys have produced to date. With only a few exceptions, the majority of the songs never go anywhere, and in some cases, they're almost unlistenable. It's been said that the only reason this album even exists is because they wanted to rush a new album into the stores before they embark on their upcoming tour. After hearing the new material, I'm inclined to agree.
"Pebbles and Marbles" is the leadoff track and, for the most part, just meanders on and on for over 11 minutes. Not a good way to start off a CD. "Anything But Me" is boring at best, and the title track is just awful. Phish has a long history of writing songs with 'less than intelligent' lyrics, but "Mexican Cousin" is one of the worst yet.
"Seven Below" is the first decent jam on the disc and has the potential to turn into something exciting in concert. It's too bad they follow it up on the album with the worthless "Mock Song." Bassist Mike Gordon said in a recent interview that the song was basically just thrown together at the last minute to test something in the studio. If that's the case, why release it? It's as if they figure they can release anything and the fans will buy it.
The best track on the disc (and the only one that comes close to rocking out) is "46 Days." "All of These Dreams" is yet another song that you never need to hear again. "Walls of the Cave" is destined for greatness onstage. It takes a while to build up steam, but once it gets going, I can see this one becoming a high point of the upcoming shows. Ditto for "Waves."
Phish's studio output has been gradually going downhill since 1996's Billy Breathes. The Story of the Ghost and Farmhouse weren't great either, but the good songs on those two albums are better than anything on Round Room. Supposedly, they wrote about 40 new songs before going into the studio. If these 12 tracks were the best of the lot, I'd hate to hear the rest.