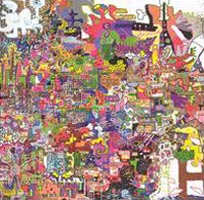 The year is 2002. Indie rockers, Phantom Planet have just released their new album, The Guest. Their 1998 debut, Phantom Planet is Missing, received critical acclaim, poising the boys as one of the bands to watch. The stars were aligned perfectly and the mood was set. The Guest was released and Phantom Planet proved to live up to the hype.
Riding on the wave of success, Phantom Planet went back into the studio to record again. Could they create another pop perfected tune like "California?" More importantly, would they want to? The answer apparently is a resounding no. In fact, after listening to the new album, fans of The Guest might be saying, "Will the real Phantom Planet please stand up?"
We've seen it all before. Artists 'master' a certain genre and suddenly seem bored by revisiting the same scene. Instead, they branch out in a new musical direction entirely. Sometimes it works; as in say, The Beatles. Sometimes it doesn't. Phantom Planet, unfortunately, is an example of the latter.
Where The Guest overflowed with catchy lyrics and infectious melodies, Phantom Planet is overridden by raspy vocals and sullen philosophies. Reinvention might be how Phantom Planet plans on maintaining credibility, but following a trend does not a musician make.
"Happy Ending," "Badd Business" and "Big Brat," all offer the familiar 'emo' whine. By the time they get to "Making A Killing" the lads even sound too cool to sing their own songs. "1st Things 1st" has a welcomed eighties vibe, while "You're Not Welcome Here" meanwhile, reminds older Phantom Planet fans that all hope is not lost.
It's not so much that Phantom Planet is a bad collection it's just an unoriginal one. Alex Greenwald, whose vocals are normally rich and inviting, merely come across as raw and disinterested. The songs have a certain sense of sameness as well. Comparisons are likely to be made to the current too-cool-for-school 'indie' darlings, The Strokes, and justifiably so. What Phantom Planet needs to realize, however, is that they had already defined the sound that suited them best.
That's not to say that starting from scratch is always a bad idea. Maroon 5, for instance, saved their careers by ditching their power pop persona for something new. The difference here being their old persona wasn't working for them. This was not the case with Phantom Planet. In good company with the likes of Weezer and Fountains of Wayne, Phantom Planet created feel good rock without boundaries. In an industry where there is a relative absence of anything hummable and consumable that is not embarrassing to turn up and jam to, Phantom Planet prevailed.
Of course there is always the school of thought that Phantom Planet will introduce the band to a whole new set of fans and if so, good for them. Still, I can't help but feeling like I'm stuck in a teen comedy and Phantom Planet has the enviable opportunity to hook up with the popular girl, while the perfectly beautiful best friend sits by and just waits for them to come to their senses. Speaking as someone who always roots for the best friend, I hope they can stop the identity crisis before it is too late.