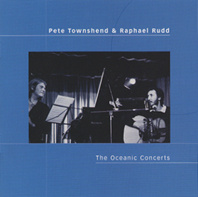 If you're a Who fan, you've probably heard the stories by now. After receiving a call from Pete Townshend in 1978, Raphael Rudd--at the time, just 19 years old--flew to London, where he lived for the next three years. During that time, the classically trained musician was a part of several Pete/Who projects, including the horn arrangement on "Rough Boys" and the orchestration on the Quadrophenia soundtrack.
In the spring of 2000, the ex-Renaissance harpist/pianist rediscovered his tapes from two largely unknown acoustic performances he did with Townshend in 1979 and 1980. The collaborations were recorded in front of a smattering of lucky attendees at Townshend's Eel Pie Studios in London as the two alternately ran through classic Who tunes (and soon-to-be classic Pete solo tunes), as well as several Rudd originals.
Enough of the history, let's talk about the music. After a short Rudd composition called "Raga," Pete serves up the first two Who tunes on the disc, "Drowned" and "The Seeker." The first duet between Townshend & Rudd, "The Ferryman," finds the two musicians complementing each other beautifully. By the time you get to the next duet, "A Little is Enough" (which was unreleased at the time), you're hooked.
"Sleeping Dog" conveys a real sense of innocence, something rarely heard in Pete's material. The inspired rendition of "Bargain" and the 'off the cuff' version of "Tattoo" are sure to please the Who fans out there, but perhaps the biggest highlight of the disc is the duet on "Let My Love Open the Door" (also unreleased at the time). Rudd's harp work adds a fresh and truly unique touch to the song.
It's interesting to hear Pete playing in a different context like this. My only complaint with The Oceanic Concerts is the occasional distortion on the guitar. Aside from that, it's always a thrill for Who/Townshend fans to get new material for the collection, and this CD is a welcome addition.