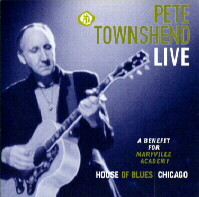 It's been six years since the last Pete Townshend album, the criminally overlooked Psychoderelict. Since then, he took what's left of The Who on the road, performing Quadrophenia--but he's only played a dozen or so solo shows. Excerpts of two of them are captured here. This album finds Townshend performing a couple of choice covers ("On the Road Again," and an excellent version of "Girl From the North Country"), plus a smattering of Who and solo tunes.
Who fans will probably have mixed emotions about this disc. The few people who were fortunate enough to attend the concerts will be disappointed because they know what's missing. The rest will love it. The tracks on the CD and its bonus disc come from Townshend's '97 and '98 shows at Chicago's House of Blues.
Highlights? Let's start with the rarely played "Anyway Anyhow Anywhere." The song starts off with Townshend and a drum machine, then kicks firmly into high gear as he shouts, "nothing gets in my way, not even locked doors." Pete's voice sounds great, and his guitar work is even better. "Now and Then" is the lone track from Psychoderelict. Hopefully, this stellar performance of the song will inspire people to go out and find the original CD.
"Won't Get Fooled Again" wins the prize for 'most changed song.' Townshend starts the song on acoustic, then switches to electric for the killer solos. On "Magic Bus," you'll swear it's 1970 all over again when you hear the way he attacks his guitar. Both of these tracks clock in at over 12 minutes. Percussionist Jody Linscott and keyboardist Jon Carin are the star performers on "A Little is Enough," recreating and enhancing all the nuances and effects of the studio version.
The big selling point here is the bonus disc. Taken from the '97 show, Townshend and Carin are joined onstage by "special guest" (a.k.a. Pearl Jam's Eddie Vedder) for one of the best versions of "Magic Bus" that you'll ever hear, and a great version of "Heart to Hang Onto." Townshend's vocals are outstanding on both tracks, and Vedder turns in an inspired performance as well.
The bad thing about this disc is that you may not be able to find it at your local CD shop. Well, fear not Who fans--you can get it online by clicking here. This CD may not be as good as the Deep End disc, but there's enough brilliance here to satisfy any self-respecting Who fan.
All royalties from the sale of this disc will benefit the Maryville Academy -- a leader in the treatment of physically, sexually, and emotionally abused children. For more info, call 1-847-824-6126.