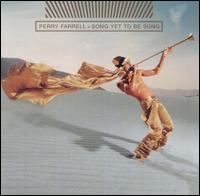 Perry Farrell is a man who wears many hats. He was the founder of the now defunct Lollapalooza festivals. He was the lead singer of Porno for Pyros, and is currently the lead singer for (the recently regrouped) Jane's Addiction. Always one to push musical boundaries, Farrell is now attempting to bring his hippie sensibility into the new millennium. Boasting the album as a "jubilee," the disc is exactly what you'd expect from Farrell.
"Happy Birthday Jubilee" best illustrates the message Farrell is trying to convey. For the most part, the album's emphasis seems to be based on experimentation. On many of the songs, Farrell's chameleon-like voice is constantly riding out the eclectic wave. "Seeds" is part Yaz or Depeche Mode, while "King Z" starts out like Chris DeBurgh's "Lady in Red" before evolving into a tango. Finally, "Admit I" rounds out Farrell's bag of tricks with a rap vibe.
I hear what Farrell is trying to do musically, but I'm lost on the actual message. Instead, it all feels like one big yoga meditation. Maybe I just missed school the day the Farrell fan subscriptions were being passed out. All I know is that by the end of Song Yet To Be Sung, I found myself longing for just that.