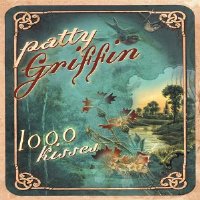 Patty Griffin is like the wallflower at a high school dance, full of talent and fire, yet few people recognize and appreciate it. Turning a corner with her 3rd major label release, Griffin has managed to go incognito for quite some time. With 1,000 Kisses, Griffin creates a solid record that might not be popular to jam to, but is full of good music all the same.
1,000 Kisses is an album which revives an alive, acoustic energy Griffin has seemed smitten with in the past, most notably on her 1996 critically acclaimed release, Living With Ghosts. Gone are the presence of crunchy guitars and loud lead vocals predominating on the 1998 Flaming Red which spawned minor hits such as "Blue Sky" and "One Big Love." It's hard to say where Griffin feels most at home musically, since she masters both styles so well and what seems to be so effortlessly.
Regardless, those who are familiar with Griffin's work, often define her as a folk singer/songwriter. Oddly enough, Griffin has never categorized herself as such, instead opting for more of a self proclaimed rocker depiction.
1,000 Kisses opens with the beautiful, bound to be classic, "Rain." The haunting tune falls somewhere in the middle of country, pop, and folk. "Chief" has Emmylou Harris like bluegrass roots, but Griffin's rendition manages to give the song a mainstream spin. "Making Pies" is a Bonnie Raitt-esque snapshot of the simple life; a perfect example of the storytelling song writing Griffin is best known for.
Taking a cue from the Indigo Girls, "Be Careful" is an anthem for strong women everywhere--young or old, rich or poor. "Nobody's Crying" is achingly real, while Griffin's take on the 1948 blues standard "Tomorrow Night" takes on new life. Finally there's "Mil Besos," a slow, intoxicating tango is the perfect addition to the many musical faces of Griffin.
Griffin's songs tell stories that you want to hear the end to--mainly because her voice is so beautifully distinctive. 1,000 Kisses is like poetry in motion. If only the ride would never stop.