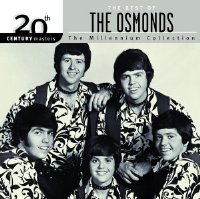 Talk about guilty pleasures. Maybe I'm showing my age here, but this is one of the coolest CDs I've heard in a long time. It all started back in the 60's with their appearances on the Andy Williams show. The group went on to record numerous gold and platinum albums during the early '70s, and had a string of chart-topping hits like "One Bad Apple," "Yo-Yo" and "Down by the Lazy River."
Once they moved out of the bubble gum phase of their early material, the group decided to try appealing more to the rock crowd. "Hold Her Tight" was an obvious nod to Led Zeppelin's "Immigrant Song" and the wailing guitars heard on "Crazy Horses" took more than a few listeners by surprise. The sweetness was gone. Here was a group doing their best to play heavy metal.
By around 1974, Marie had 'infiltrated' the group, and the public's musical tastes had changed. Nonetheless, all the hits you remember are here, including the cheesy cover of "He Ain't Heavy, He's My Brother"--all on one CD.
TRACK LIST:
One Bad Apple * Double Lovin' * Yo-Yo * Down By The Lazy River * Hold Her Tight * Crazy Horses * Goin' Home * Let Me In * Love Me For A Reason * The Proud One * I Can't Stop * He Ain't Heavy, He's My Brother