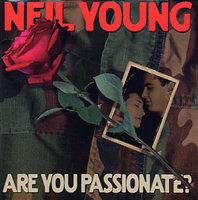 Back in the 60's, Neil Young sang "Well, hello Mr. Soul..." Seems those words are especially appropriate now. As any fan will confirm, Neil's always reinventing himself, and his new album is no exception. Fresh off his recent tour with CSNY, the 'godfather of grunge' has teamed up with R&B legends, Booker T & The MGs on his new album, Are You Passionate?
Things get off to a rather uneventful start with "You're My Girl." Debuted on the recent CSNY tour, the song finds Neil entrenched in the classic Booker T sound. Compared to his recent material, Young's vocals seem to have weakened. Instead of rocking out, Neil prefers to stick to quieter songs, with the requisite falsetto chorus. "Mr. Disappointment" doesn't do anything to pick up the pace--if anything, he slows it down--almost whispering the verses. "Quit (Don't Say You Love Me)" features some nice guitar work, and is one of the better things on the CD.
"Let's Roll" was inspired by the immortalized last words of Todd Beamer as he and the others on the plane tried to overpower the hijackers on 9/11. Some reviewers have called the song 'clunky,' but it's the closest thing to a rock tune up to this point, and one of the few songs where Neil reaches for the upper range of his voice.
Things slow down again on the title track, and then the mighty Crazy Horse comes in to save the day with "Goin' Home." It's the only track on the disc recorded with the group, but it's classic Neil--epic, cinematic lyrics painting a vivid picture. Like much of his material, the song was written and performed at least a year ago & recorded with Young's on-again, off-again band. And like "Let's Roll," the song was performed on the recent CSNY tour where it was consistently one of the highlights of the shows.
By the time they get to "Be With You," Neil's back in R&B mode again. If it wasn't for Neil's vocals, this one could be mistaken for a Four Tops tune--especially the choruses. "Two Old Friends" is another track that saw its debut on the 2002 CSNY tour. Unfortunately, it was a low point in the shows, and it doesn't fare much better here either.
"She's a Healer" is really the only track where Neil takes any kind of musical risk. There's a funky groove bubbling in the background, and the guitar work is some of the tastiest on the CD. The trumpet lines add a somewhat unusual touch (for Neil, anyway) to the song too. Are You Passionate? is somewhat of a mixed bag, but overall, it's the best thing he's done since Harvest Moon and possibly Freedom.
Editor's note: This album is also available on vinyl.