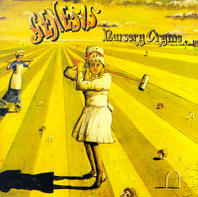 One of the first bands that come to mind when you think about progressive rock is Genesis. Nursery Cryme was the group's third album, and the first to include guitarist Steve Hackett and drummer/vocalist Phil Collins. Nursery Cryme was much more adventurous than their previous album, and with the new lineup, effectively defined what would become the band's distinctive style. Musically, the record is somewhat uneven, but the songs that do work, work well enough to make up for the rest of the album. "The Musical Box" quickly became a highlight of the group's live shows, as did "The Fountain of Salmacis," an under appreciated track and a real showcase for everyone in the band.
Sonically speaking, Classic Records' new pressing is the definitive version of the album. It's not up to today's standards for audiophile recordings, but it's far better than previous versions. The album's dynamic range is the most noticeable difference--greatly improved over earlier vinyl pressings, as well as the so-called "Definitive Edition Remaster" on CD. Nursery Cryme may not be essential Genesis (i.e. The Lamb Lies Down on Broadway, Selling England By the Pound, etc), but it laid the groundwork for those prog masterpieces.
If you've already got a copy of Nursery Cryme (CD or vinyl) and you're looking for an upgrade, then you'll definitely want this for your collection. If you're just starting to check out the earlier stuff, start with the albums mentioned above first.