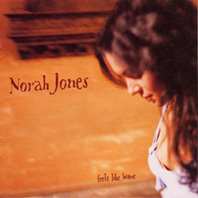 It's been quite a while since we reviewed a title from Classic Records, but it's time to break the 'dry spell,' so to speak. The folks at Classic recently released the latest Norah Jones album, Feels Like Home, on their exclusive 200g Quiex SV-P vinyl and the results are nothing short of stunning.
From the moment the needle settles into the groove on the first side, you know you're in for a treat. The low end is noticeably better, and aside from a few minor pops on "Sunrise" and a small scratch on the second side, this pressing was virtually silent until the music started. Granted, the CD sounds quite good, as far as CDs go. However, once you hear the album on vinyl, you won't be pulling out your CD copy again anytime soon.
The overall output level is a bit low, due to the length of the album, but once you turn it up, the sound you'll be amazed at what you hear. Sonically, the highlights are the sparsely arranged tracks (like "Those Sweet Words," "Carnival Town" and "Humble Me") and the more ethereal ones ("In the Morning," "Toes" and "Above Ground"). The detail and nuances previously hidden in the background now seem to leap from your speakers.
Listen to Kevin Breit's acoustic guitar and banjolin on "Sunrise," then try to convince yourself that he's not in the same room with you. On the slowed down version of Townes Van Zandt's "Be Here to Love Me," you can easily pick out each of the four vocalists on the choruses. Throughout the album, Lee Alexander's acoustic bass is deep and full. Above all, the vinyl conveys a warmth that can only be achieved through analog means.
Classic's vinyl pressing of Feels Like Home is one of the best sounding vinyl releases in recent memory, and one that is destined to become a demonstration record in audiophile shops around the globe.