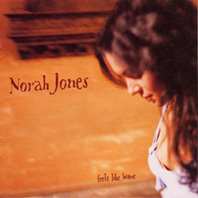 There's a sure way to tell if a song is a hit. If you hear it in your local grocery store, chances are it's a hit. The first weekend after the release of Feels Like Home, I heard "Sunrise" (the first single) as I was walking through the store. Combine that with the fact that the album stayed at the top of the Billboard charts for the last six weeks, and that's all the proof you need.
Overall, the second album from Grammy darling Norah Jones doesn't really break any new ground. It picks up pretty much where her last album left off. Most of the songs are fairly subdued (at least on the CD). Not that that's a bad thing. There's a time and place for every kind of music.
Jones had mentioned in an interview before the album came out that this was going to be her 'rock' album. Based solely upon listening to the CD, I don't know that I'd go that far. However, some of the songs take on a much more electric sound to them in a live setting (a few of the songs were debuted on her last tour). Maybe that's where her thought came from.
From the first time you hear the "ooo ooo ooo ooo" chorus of "Sunrise," it's permanently engraved in your mind--another sure sign of a hit. From there, the album ranges from sparsely arranged originals ("Humble Me") to lesser known covers of songs by Townes Van Zandt ("Be Here to Love Me") and Tom Waits ("The Long Way Home"). There's a bit more variety than that, too. "Creepin' In" is a spry duet with country legend, Dolly Parton.
But to these ears, the highlights on the CD are the more ethereal tunes: "In the Morning," "Toes" and "Above Ground." All three songs show a somewhat darker (i.e.: more interesting) side to Jones, and practically beg you to play them again. The album comes to a close with an updated version of Duke Ellington's "Melancholia" (retitled "Don't Miss You at All" with new lyrics by Jones).
People who play the CD in their computer can listen to 2 additional bonus tracks "Moon Song" and a cover of the Everly Brothers song "Sleepless Nights." Plus you can check out the video for "Sunrise." The bonus material requires the installation of the Bandlink software (provided on the CD).
Even though it's not a whole lot different than her debut, Feels Like Home is a natural progression for Jones (if for no other reason than the different musical styles included here) and is sure to please anyone who enjoyed the first one.