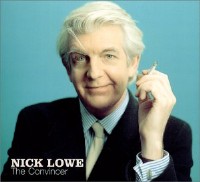 Nick Lowe has made a career out of an eclectic, tap your toe sort of pop. From his early days that lead to his biggest U.S. hit to date, "Cruel to Be Kind," to his numerous producer and songwriting credits, and his successful relationship with the equally talented Elvis Costello, Lowe has had a hand in many a pop masterpiece. Not unlike Costello, as Lowe begins to age, he is beginning to mellow. Gone are the days of quirky power pop, and instead such tunes have been replaced with pop standards best suited for the senior set.
For those who haven't seen Lowe in awhile the sight and the sound may be a bit of a shock. These days Lowe, now in his early 50s, looks more like an English professor than a once upon a time rock star. Nonetheless, that hasn't stopped many a musician from creating music that not only appeals to the masses, but also appeals to a new generation. Think Aerosmith, Rod Stewart, Elton John…but whatever you do, don't think Nick Lowe.
With The Convincer, the phrase, 'you can't teach an old dog new tricks' comes to mind. Instead of experimenting with new sounds and 'wowing' the kids with what he can still do, Lowe seems perfectly content in his out of touch sensibility. Every track on The Convincer is a page in the musical scrapbook of yesteryear. There are even two cover tunes, with Lowe's renditions of "Only A Fool Breaks His Own Heart" and Johnny Rivers' "Poor Side of Town." Gone is the bravado of the quirky "Heart," or the firecracker feel of "So It Goes."
Elsewhere on The Convincer, the outlook is equally bleak. "Indian Queens" could be the score of a lost western TV show, cancelled in its first season. "Has She Got a Friend," meanwhile, has country line dance written all over it.
Fans of Nick Lowe's original fervor should steer clear of his eleventh release. However, for those who enjoy Burt Bacharach-like arrangements that remind them of their own musical heyday, The Convincer is a safe pick.