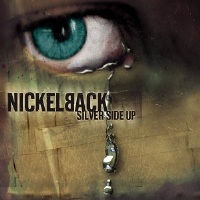 Lately there has been a sudden surge of hard rockers with sensitive sides. Think of acts such as Staind, or Cold--and now add Nickelback to the growing trend. Nickelback might be a little more mainstream than your regular hard rock excursion; but these days, the lines are so blurred it's hard to tell who really belongs to what genre anymore.
Silver Side Up is an impressive collection of tunes with underlying serious sentiments. A few years back they made a name for themselves with their track, "Leader of Men." With the new release, it looks like more than a few songs might match that single's success, and then some.
Nickelback's gravely voiced lead singer and main songwriter, Chad Kroeger, is the anchor that has grounded their success thus far. He gropes topics like abuse with porcupine laced kid gloves; combining sensitive subject matter with a hard to ignore presence. On "Never Again," Kroeger sings, "He's drunk again, it's time to fight, she must have done something wrong tonight." Another tune that denounces hurt and pain with the prescription of - hurt and pain is "Just For" which includes the verse, "I want to rip his body just for hurting you." Honest lyrics are what make such hard rock songs about hard effects so rich and raw.
"Too Bad" is another example of the band's strong delivery in the Shades Apart realm. This easily relatable tune is all about the feeling of regret--wishing you could do something over and never having the chance. However, the best and first unofficial hit goes to "How You Remind Me," where Kroeger pleads, "This time I'm mistaken, for handing you a heart worth breaking." With this track, Nickelback proves that even when they are talking about the nitty-gritty of love, they still manage to take listeners to unusual depths.
The only track that doesn't work is "Good Times Gone," a song that sounds like it was inspired by a beer or jeans commercial, rather than skilled songwriting. Still, Nickelback has managed to carve out a niche in the market by getting angry about anger. Call it anger with a purpose if you must. Either way, call it good music.