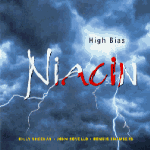 High Bias is the dynamic new album from jazz/rock trio, Niacin. The band is made up of Hammond B3 master/fanatic John Novello on keyboards; rock bassist extraordinaire, Billy Sheehan; and powerhouse drummer, Dennis Chambers. Niacin is one of those rare bands that grab your attention the first time you hear them. The band's core sound is based on Novello's B-3, but the thing that separates this band from others like them is the groove. Most of the tunes on High Bias have an infectious groove that runs deep, daring you to sit still.
The songs touch on a variety of musical genres. The title track gets things off to a great start with its pulsating blues groove, excellent drumming & bass work. Niacin's cover of "Birdland" features stellar musicianship throughout the track, actually surpassing the original. "Cool to the Touch" is a romantic, laid back tune that shows the more reflective side of Novello's playing. Two of the best tracks on the CD are the smooth R&B stylings of "It's the Little Things," and the funk of "Who Cares if its Raining." If you can sit through this track without bopping around, you had better get your pulse checked.
The last track on High Bias is the 11:29 epic, "Hang Me Upside Down;" written by Chick Corea (who also contributes a few solos on his trademark Fender Rhodes). This marks the first time Corea has played electric keyboards in years, recalling his days with Return to Forever. Niacin has effectively created a new hybrid of electric music; combining jazz and rock with blues, funk and R&B like never before. High Bias is one of the best and most exciting CDs released this year. If you like any combination of the musical genres I just mentioned, you'll love Niacin.