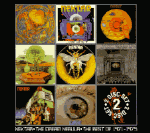 Between 1971 and 1973, Nektar was one of the biggest bands around on the German prog (that's short for progressive rock) scene. The fact that they weren't actually German didn't seem to make any difference--the fans didn't care. They 'sounded' German. Here in the US, the band was still an unknown. Nektar's debut in the states (actually their fourth album) was the classic, Remember the Future. It's hard to deny the impact that this album made on the prog fans here. Even people who didn't like prog bought this album.
Unfortunately, the band was unable to continue the same commercial success, and eventually broke up. The Dream Nebula collects most of the group's best material, along with a few rare gems thrown in for good measure. Surprisingly, this is the first Nektar release available on CD here in the US. As with any 'greatest hits' package, there are always those songs that are missing, but there aren't many. They may have left off "Show Me the Way," "That's Life" and "Astral Man", but they gave us the first side of Recycled (for my money, their best album) instead.
The only problems on The Dream Nebula are the mixes that they decided to use, and the sound quality on some of the tracks. The worst offender is "Remember the Future (Part 1)." Instead of using the US mix (which is far superior), they used the European mix. The US version has a much heavier guitar sound to it, and much better low end. When you compare it to the European version, it sounds like something is missing--almost as if you're only listening to one channel.
The Dream Nebula may disappoint long time fans, but it's a fine starting point for someone just discovering the band. It's currently the only place to find Nektar on CD in the states; and although there are problems on some of the tracks, most of it sounds great. The material speaks for itself.
TRACK LIST:
Disc One -- Prelude * Astronaut's Nightmare * Warp Oversight * The Dream Nebula (Part One) * It's All in the Mind * A Tab in the Ocean * Do You Believe in Magic (single version) * New Day Dawning * Wings (single version)
Disc Two -- Cast Your Fate * King of Twilight * Remember the Future (Part One) * Oop's (Unidentified Flying Abstract) * Fidgety Queen * Recycle * Cybernetic Consumption * Recycle Countdown * Automaton Horrorscope * Recycling * Flight to Reality * Unendless Imaginations