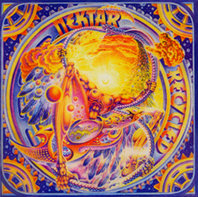 Fresh off the band's 1974 tour for Down to Earth, Nektar headed back into the studio to record (arguably) their masterwork--Recycled. Working under the auspices of famed Beatle producer, Geoff Emerick, the band recorded and produced the original version of the album. Unfortunately, the band was unhappy with the results and decided to scrap it. "After some deliberation, we decided that we were not altogether pleased with the mix," said bassist Mo Moore. "We all heard it differently and so I went back to Germany and convinced the head of Bellaphon to fund the recording of a choir, some overdubs, and a remix." The second mix was finished in September 1975 and the album was released in October.
As part of the band's plan to reissue their back catalog, Eclectic Discs has just re-released the album. During the process of locating the master tapes, the original Geoff Emerick mix showed up in the vaults. Digitally remastered, this version of the album is now available for the first time. This also marks the first time that the finished master tapes have been used for a CD release.

As for the CD, sound quality is impeccable--as has been the case with all of the new band-approved remasters (look for the sticker on the jewel box). Of course, the real draw for Nektar fans is the bonus material. The Emerick mix is the album is drastically different from what was eventually released. "Recycle" has noticeably more bass, and the guitar and keyboards are pushed back in the mix. The intro to "Cybernetic Consumption" is considerably different. The industrial sound effects haven't been added yet, and the drums are different. "Recycle Countdown" features double-tracked vocals instead of the single vocal on the released version.
The spoken vocals on "Automaton Horrorscope" aren't processed nearly as much, and like much of the Emerick mix, the guitar is pushed back in the mix. "Recycling" is basically the same, while the intro to "Flight to Reality" sounds like it's unfinished. The choir and orchestra on "Unendless Imaginations" are missing from the majority of the song at this point, with the orchestra only showing up briefly on the end section.
"Sao Paulo Sunrise" features different keyboards here. The vocals are buried slightly, compared to the released version. The choir on this track and on the jazzy "Costa Del Sol" is missing. "Marvellous Moses" is missing the harmonies on the first chorus; but other than a slightly different mix, it's basically the same. If anything, the finished version sounds a bit cleaner. The album closes with the band's timeless classic, "It's All Over"--once again, missing the orchestra.
Like all the other band-approved reissues so far, Recycled features new liner notes & photos. Complaints? I can't think of any at all. It's great to finally have the Nektar catalog coming out the way it was originally intended. Up next is the band's classic performance from the New York Academy of Music. Watch for it…