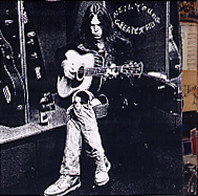 It seems almost unfathomable that someone with as much material as Neil Young could possibly release a single 'best of' CD. For several years now, Young has been singing the praises of vinyl and the high-resolution 'super-saturated' DVD Stereo format. Never happy with the sound of CDs in general, now the rest of the world gets to hear what he's been talking about all this time. In addition to the high-res version, Greatest Hits also comes with a 'regular' CD version of the disc, for those who don't have a DVD player or those who want to listen to it in their car. But the real attraction here is the DVD version.
Not only do the songs sound better than ever, you also get lyrics to the songs (check this), videos for "Rockin' in the Free World" (unfortunately, it's still too fast) and "Harvest Moon." But the really cool thing about the DVD version is the visual aspect. Each song features video of the original album/single/CD spinning on a turntable (or CD player, in the case of RITFW). So you not only get the best possible sound quality, you can imagine what it was like to listen to the songs in the original format.
So, how on earth did they decide which songs to include? According to the man himself, "Greatest Hits inclusion based on original record sales, airplay, and known download history." That's good enough for me. Neil Young's Greatest Hits is perfect for the newbies out there, and essential for longtime fans (especially those old enough to remember listening to these songs on vinyl).
Editor's note: A special bonus 7" single of "The Loner" b/w "Sugar Mountain" is available with the 180-gram 2LP vinyl edition.
TRACK LIST:
Down by the River * Cowgirl in the Sand * Cinnamon Girl * Helpless * After the Gold Rush * Only Love Can Break Your Heart * Southern Man * Ohio * The Needle and the Damage Done * Old Man * Heart of Gold * Like a Hurricane * Comes a Time * Hey Hey, My My (Into the Black) *Rockin' in the Free World * Harvest Moon * The Loner (vinyl only) * Sugar Mountain (vinyl only)