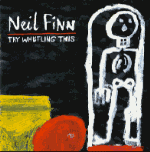 Neil Finn is probably best known for his work with Split Enz and Crowded House. Although they never achieved the same level of success here in the US, Finn is responsible for some of the best pop songs of the last two decades. Songs like "I Got You" and "Don't Dream It's Over" have survived the test of time quite well. In the case of Crowded House (at least here in the US), the best songs never got played on the radio. To many fans, these songs are his best material.
Never one to shy away from trying something new, Finn lives up to expectations and surpasses them with ease. There isn't a bad song on this CD. The disc starts with a 1-2-3 punch, three great songs in a row. "Sinner" is a dark, groove-heavy exploration and the first single from the CD. "Twisty Bass" is another cool tune, with an almost industrial sound to it. "Loose Tongue" is a Lennon-esque rocker. "Dream Date" finds Finn dabbling in a bit of psychedelia, and it works perfectly.
While several of the songs have a darker, more exotic tone than what you're used to hearing from Finn, he still has a flair for writing a memorable melody. "She Will Have Her Way," "Truth," and the lullaby-like "Faster Than Light" are perfect examples. The title track is one of the best tracks on the album, a beautiful song that ranks among Finn's greatest musical accomplishments. Even if you've never heard of Finn, or maybe you didn't care for Split Enz or Crowded House, don't miss out on this CD. Try Whistling This is the sleeper of the year.