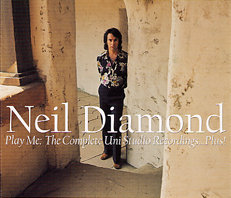 To many, Neil Diamond is the 'superhero' who saves the day in Saving Silverman, and rightly so. His appearance in the film's final scene was one of the highlights of the movie. To others, he's the guy who wrote "I'm a Believer," featured prominently in Shrek. To those of us who have been around long enough to know better, he's much more. He's sold millions of records over the last 4 decades, and as his fans will attest, he's a consummate live performer.
The new 3CD box set, Play Me, collects the seven studio albums he recorded for UNI Records between 1968 and 1972, a few obscure B-sides, and in case that wasn't enough, seven additional tracks from his Gold and Hot August Night live albums.
By the time he signed with UNI in '68, Diamond had already experienced huge success as a solo artist. Still, albums like Velvet Gloves and Spit and Brother Love's Travelling Salvation Show were wildly erratic, even for an artist known for uneven albums. Having said that, there are countless brushes with brilliance in this collection. Even with unsuccessful experiments such as "The Pot Smoker's Song" and "Knackelflerg," Play Me is an excellent starting point for anyone who's just discovering the legendary performer. With this much music to choose from, you want to start at the beginning, right?
All the early classics are here: "Sweet Caroline," "Holly Holy," "Cracklin' Rosie" (is this song really about a blowup doll?), "I Am… I Said," plus great live versions of "Kentucky Woman," Solitary Man" and "Cherry, Cherry." This may not be the solitary Neil Diamond collection to get, but for the early stuff, it can't be beat.