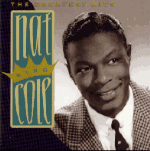 Between 1944 and 1963, Nat King Cole racked up an amazing 21 top ten hits; and all but two of them--"The Christmas Song" and "Frosty the Snowman"--are on this CD. Capitol originally released their version of The Greatest Hits back in 1994. Now, making a good thing even better, DCC has just released this landmark album on both 24K gold CD and 180-gram virgin vinyl.
The sound throughout this compilation is startlingly rich and full. The warm timbre of his vocals is unrivaled by any other performer; and on this CD, it's breathtaking.You want to hear dynamic range? Check out the orchestral blasts on "Orange Colored Sky." Just make sure you don't have your speakers up too loud first. There are only three tracks by The King Cole Trio, but they're all classics. Listen to the sheer hipness of "Route 66" or "Straighten Up and Fly Right" and you'll hear what cool is all about.
DCC's mastering god, Steve Hoffman really outdid himself with this release. The original three-track masters were used for all but two of the tracks ("If I May" and "You Call it Madness"), and the sound quality is just stunning. The master tapes can't possibly sound any better than this. DCC also added liner notes (the Capitol CD has none) for each track, making it even better. Even if you already own the original disc, the audiophile version from DCC is a must-have for any collection.
TRACK LIST:
Unforgettable * (Get Your Kicks on) Route 66 * Orange Colored Sky * Mona Lisa * Walkin' My Baby Back Home * Straighten Up and Fly Right * Send For Me * Looking Back * You Call it Madness (But I Call it Love) * (I Love You) For Sentimental Reasons * Nature Boy * Ramblin' Rose * Pretend * Too Young * Somewhere Along the Way * Those Lazy-Hazy-Crazy Days of Summer * Smile * Darling, Je Vous Aime Beaucoup * Answer Me, My Love * A Blossom Fell * If I May * Unforgettable (duet with Natalie Cole)