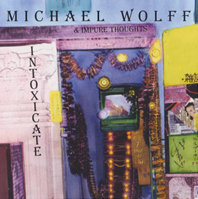 Ever wonder what happened to Michael Wolff, the keyboardist/bandleader from the Arsenio Hall show? Well, he's got a new band together now called Impure Thoughts and they just released their second aptly titled CD, Intoxicate. The band is made up of Wolff on piano & keyboards, Alex Foster on saxophones, ex-Miles alumnus Badal Roy on tablas, Frank Colon on percussion, Victor Jones on drums, and his ex-Arsenio bandmate, John B. Williams on electric upright bass. Together, they form one of the hottest new jazz outfits around.
"Badd Al" gets the CD off to a great start with its driving rhythm & loads of percussion from Roy and Colon. After a relatively laid-back sax solo, the piano slowly comes back in, temporarily changing the mood a bit. From there, the rest of the band comes back in, restoring the song's original theme and feel. The first of three cover tunes, "Witchhunt" appears in a considerably different arrangement than Wayne Shorter's original version. Williams' simple but effective bassline on the song never lets up, making it one of the more memorable tunes on the CD. A remix of the song closes the CD, but this one is far superior.
"Bells," co-written with Wolff's son, Nat, is very soothing and ultimately enjoyable. The melody is one of those that sticks in your head the first time you hear it. The next track, "Kempta," reminded me a lot of the 80's band, Skywalk, mainly due to the arrangement and Foster's alto sax sound. The next cover tune is the title track from Lee Morgan's Sidewinder album. Like "Witch Hunt," the song boasts a different arrangement, but it's one that makes you sit up and take notice. The last of the cover tunes is an almost unrecognizable version of "Sexual Healing," featuring Charlie Hunter on 8-string guitar.
Intoxicate is a vibrant and compelling effort from Wolff and his band, and hopefully a sign of much more to come. Several of the songs possess an ethereal quality about them that lures you in without thinking about it. Jazz aficionados will revel in the fact that there's finally a new group out there that isn't just trying to appeal to adult contemporary (read: smooth jazz) crowd. It's also a good starting point for those who may be new to jazz in general. Get yourself a glass of fine wine, dim the lights, and enjoy…